At a Glance
Description
We all remember the Lorax, but who remembers Seuss's political cartoons?
Producer
Mandeville Special Collections Library, University of California, San Diego
Dr. Seuss Went to War: A Catalog of Political Cartoons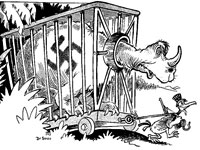 Dr. Seuss (Theodor Seuss Geisel), the prolific and talented children's book author, was also a political cartoonist. From 1941 to 1943, Seuss drew over 400 editorial cartoons as the chief editorial cartoonist for the New York newspaper PM. All 400 of his cartoons have been scanned onto this website by the staff of the Mandeville Special Collection Library at the University of California, San Diego, which houses the original cartoons in the Dr. Seuss Collection.
The cartoons are primarily related to issues surrounding World War II; and include caricature images of political figures like Adolph Hitler, Benito Mussolini, and Franklin D. Roosevelt. There are also a series of 10 War bond cartoons that Seuss drew for PM.
The site has a brief (500-word) introduction that gives an overview of Seuss's life and career. Currently the images are accessible by the month and year of publication or by subject. The site is somewhat difficult to use because of the lack of keyword search, but it is still a rich resource for information on popular culture, politics, and the media during World War II.