At a Glance
Description
When travel wasn't an easy option what views did people have of other places?
Producer
Henry Ford Museum and Greenfield Village
Photographer to the World-The Detroit Publishing Company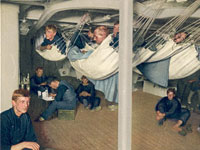 Based on an exhibit of the same name, this website provides a look at the Detroit Publishing Company (DPC) photographs of the Western United States from 1895 to 1924. The site is arranged for easy browsing into nine sections: DPC History, "How did they do it?," Cityscapes, Everyday Life, Foreign Views, Getting Around, Michigan Views, Nature, and Workplace; and each section contains 24 to 38 photographs. The first section covers the early years of the company and provides information about DPC photographers and the creation and distribution of pictures. The everyday life photos include images of cowboys shooting craps, children in Chinatown, and an African American Emancipation Day celebration in Richmond, VA. The foreign views section consists of snapshots taken in Mexico, Venezuela, the Bahamas, and Switzerland. Roughly 40 photographs focus on the state of Michigan. The nature images, the most popular of the company's photographs, are majestic and many of them fed the growing tourist industry. The section of workplace images rounds out this site and includes harvest scenes, loggers in Michigan, smelters, oyster pickers in Louisiana, and cotton gin workers. For those interested in the history of photography, this easily navigable site is a valuable resource.