At a Glance
Description
Have you ever wondered how Thomas Jefferson spent his days?
Website
Producer
Thomas Jefferson Foundation
Monticello: The Home of Thomas Jefferson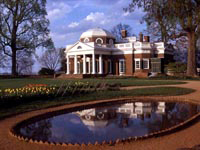 Designed to promote Monticello as a historical site, this exhibit offers a variety of educational and practical information. Materials allow viewers to explore Jefferson's life at Monticello. Particularly interesting are the Day in the Life of Thomas Jefferson, where visitors can learn about a typical day's activities for the 3rd president, and the Ask Thomas Jefferson features, where schoolchildren may submit questions to Mr. Jefferson. Researchers respond to questions in Jefferson's voice, using his writings. By browsing the Day in the Life section, viewers can investigate 11 activities that Jefferson participated in nearly every day, from writing letters to farming. In addition, links within each activity provide further background on Jefferson's family, his personality, and Monticello.
Visitors may also take a virtual tour of Monticello, "visiting" up to 12 rooms in the mansion. The dimensions of the rooms are provided, as well as architectural information, color and design explanations, and a Quicktime panoramic movie. An image gallery contains 65 images, ranging from portraits of Jefferson to photographs of the mansion and grounds at Monticello to depictions of his inventions. Listen to the audio review: