At a Glance
Description
Search this archive from the Harper's Weekly for a firsthand view into Andrew Johnson's impeachment.
Finding Precedent: The Impeachment of Andrew Johnson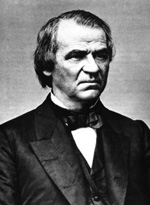 This archive provides material from Harper's Weekly relating to the 1868 impeachment of Andrew Johnson, including 90 editorials by George William Curtis and 47 articles by other writers. There are 27 political cartoons, 17 by Thomas Nast, and 47 additional illustrations of people and events. The site provides biographical essays (300-500 words) and portraits of 28 major figures in the impeachment. John Adler, Harper's publisher, wrote five essays (100-600 words) to introduce visitors to the site and the political issues affecting the impeachment. There are 24 sections on the arguments involved in the hearings. Within each section, there are between five and 100 articles from Harper's discussing issues such as conspiracy, moral judgment, the New Orleans riot, partisanship, statesmanship, and the tenure of office act. Articles and editorials are also arranged chronologically. An "Impeachment Simulation Game" is provided for use in the classroom. This site is easy to navigate and will be a useful resource for anyone researching Johnson's impeachment or late 19th century politics.