At a Glance
Description
Explore husband-wife relationships through this late 19th century series of letters.
Website
Producer
The Digital Scriptorium, Rare Book, Manuscript, and Special Collections Library, Duke University
Emma Spaulding Bryant Letters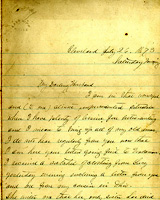 Features ten letters written in the summer 1873 from Emma Spaulding Bryant to John Bryant, her husband and a politician in the Georgia Republican Party after the Civil War. The letters, taken from the John Bryant Papers at Duke University, are accompanied by images and background notes. These documents are "unusually frank for this time period," according to the author of the site, and they "reveal much about the relationships between husbands and wives in this era, and shed light on medical practices that were often kept private." Presented by Duke's Digital Scriptorium, which provides "access to historical documentation through the use of innovative technology and collaborative development projects with Duke University faculty, students, and staff."