At a Glance
Description
Teaching modern presidencies and politics? Take advantage of the virtual resources of the Foundation and Library.
Producer
Ronald Reagan Presidential Foundation and Library
Ronald Reagan Presidential Foundation and Library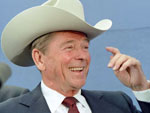 Established by Ronald Reagan, the Reagan Foundation preserves Presidential history and is "dedicated to the promotion of individual liberty, economic opportunity, global democracy, and national pride." Its online presence provides both primary and secondary sources on the life and presidency of Reagan.
Visitors can follow a timeline of Reagan's life in Life and Times, and read five short essays (800–1,000 words) on his domestic, foreign, and economic polices, Mikhail Gorbachev, and "Reagan the Man" in The Presidency. Search or browse Reagan's speeches, with both transcripts and video recordings and search or browse quotes drawn from his speaking in Reagan Quotes and Speeches. The entries of his White House Diary from 1981–1989 may also be browsed, and a separate subsection on Nancy Reagan provides a timeline of her life and brief essays on her relationship with Ronald Reagan and her political causes.
The Reagan Foundation's Archives make only a fraction of their holdings available online. However, visitors can access fast facts on Reagan and his presidency; browse a selection of photos of the President and the First Lady, organized by topic; or search or browse (by month) the Public Papers of President Ronald W. Reagan, which includes statements, speeches, and papers released by the Office of the Press from 1981–1989.
The Archives' For Educators section includes several document-based lesson plans, as well as curriculum based on current museum exhibits.
Useful for educators looking for both introductory material to Reagan and his presidency and more specific primary sources.