At a Glance
Description
Follow the evolution of American music along the Mississippi.
Website
Producer
Smithsonian Institution
River of Song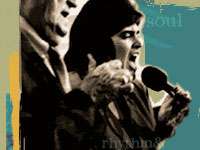 This site is a companion to a Smithsonian series produced in collaboration with public broadcasting stations in 1999. The series, River of Song, traced the history and character of contemporary American music along the Misssissippi River, from the head of the river in Minnesota to its mouth in Louisiana. The site offers 300-word biographies of each of the approximately 40 artists and music groups featured in the four-part series. Artists featured include Minnesota folk singer John Koerner, the Ojibwe powwow drummers of the Chippewa Nation, Illinois bluegrass group the Bob Lewis Family, and Louisiana blues musician Eddie Bo. Each profile includes 3–4 photographs and links to the musicians' own or related websites and artists are also indexed by genre and name.
The Music Along the River section provides more general information about the history and character of music in the four regions along the Mississippi River. There is a roughly 750-word narrative description of the music in each region. Each regional section includes links to approximately 10 articles from past Smithsonian Folklife Festival and Cultural Studies programs and five to seven other links to informational articles about that region.
A Teacher's Guide designed to accompany a videotape or CD of the music provides over 30 different activities for elementary and middle school students, including songs and specific exercises in rhythm, scales, notes, drumbeat patterns, and chords. Though the site is frustratingly devoid of audio clips of the music presented in the series, some of the related links do provide audio samples. This site is particularly ideal for music teachers, but could also be used in history classes to discuss American culture and the development of distinctively American kinds of music.