At a Glance
Description
Wyoming educators, explore more than 10,000 primary sources on Wyoming's 19th- and 20th-century history.
Producer
University of Wyoming
University of Wyoming Digital Collections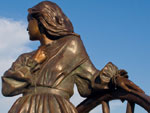 This website presents nine "Digital Collections" containing more than 10,000 primary sources on many aspects of Wyoming's 19th and 20th-century history.
The Palen Collection contains more than 200 programs, news clippings, brochures, and photographs surrounding Cheyenne's Frontier Days and rodeos from around the state.
Those interested in the history of studio photography will be particularly interested in the close to 3,000 photographs from a studio in Laramie, WY, in the Ludvig Svenson collection.
The Richard Throssel collection contains more than 550 early 20th-century photographs of Native American life and culture.
Other highlights include a small collection of journals, manuscripts, photographs, and articles surrounding the life of writer Owen Wister and his travels in the West; close to 500 photographs and more than 4,000 documents relating to ranch life in Wyoming; and a collection of photographs of Roscoe Turner and the early history of aviation.
The website also presents two collections of research projects conducted by University of Wyoming undergraduates, as well as a collection entitled Digital Herbaria, which contains high-resolution photographs and data for 6,014 vascular plant specimens found in the Grand Teton National Park.
Teachers will be especially interested in the website's Teacher Resources section, which includes links to a substantial number of lesson plans emphasizing critical analysis of primary sources.