At a Glance
Description
An extensive collection of primary resources concerning renowned composer Leonard Bernstein.
Producer
American Memory, Library of Congress
The Leonard Bernstein Collection, ca.1920-1989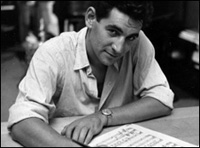 Selected material from the papers of the great American composer, conductor, and music educator Leonard Bernstein (1918-1990), including 85 photographs, 177 scripts from Bernstein's Young People's Concerts television programs, 74 scripts from Thursday Evening Previews, and more than 1,100 pieces of correspondence, with an emphasis on letters between Bernstein and his mentors Aaron Copland and Serge Koussevitzky, his family, and his teacher, assistant, and longtime friend Helen Coates. Users interested in Bernstein's renowned musicals can locate 27 letters on West Side Story, 12 on Candide, and nine pertaining to Trouble in Tahiti. Provides a finding aid for the complete collection, housed in the Library of Congress's Music Division; the 6,000-word essay, "Professor Lenny" by Joseph Horowitz, originally published in the New York Review of Books; a chronology of Bernstein's life; and a 27-title bibliography. With formerly obscure material concerning Bernstein's social activism, this collection will be of primary interest to those studying his musical works, ideas, and influences, and more generally 20th-century American music and musical theater.