At a Glance
Description
What do the songs people sing tell us about their lives? Do they sing about tragedy? About love and happiness? How do their tunes reflect their personal stories?
Producer
American Memory, Library of Congress
Music for the Nation: American Sheet Music, 1870-1885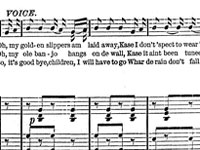 This American Memory site features more than 47,000 pieces of sheet music, drawn from the Music Division of the Library of Congress, registered for copyright from 1870 to 1885. The collection includes popular songs, piano music, sacred and secular choral music, solo instrumental music, method books, instructional materials, and band and orchestral music. Each featured work includes notes on the publisher, composer, publication, subjects, medium, and images of the music, from the cover through the score. Some selections also include transcripts of the lyrics.
Three special presentations feature selected portions of the collection. "A Decade of Music in America, 1870–79" offers a lengthy (5,000-word) essay on the most important themes, composers, musicians, and performers of that decade. It features more than 50 links to the works of key figures such as John Philip Sousa and Will S. Hays, and audio clips and lyrics of popular works like George Frederick Root's "Grandfather's Clock" and James M. Bland's "Carry Me Back to Old Virginny."
The presentation entitled In Performance—Choral Works from the Collection offers 12 audio files of music selected to represent the typical style of four-part writing for hymns and other choral pieces of that era. The audio files were recorded for the online collection in 1998 by the "Music for the Nation" Singers, a group of Library of Congress staff members. An image of the cover, a brief (150-word) description of the piece's theme and background, and information on the composer accompanies each of these selections.
Greatest Hits, 1870-1885: Variety Music Cavalcade is a listing of the most popular works for each year between 1870 and 1885, with information on the composer, date of composition and publication, and links to more information and audio clips when available. Annual lists, ranging from 5 to 12 entries, come from Julius Mattfield's "Variety Music Cavalcade" 1620–1969: A Chronology of Vocal and Instrumental Music Popular in the United States (1971).
The site also boasts an 18-work bibliography of scholarly works on music in this period. Though the time period covered in this online collection is rather narrow, the selection and variety of music represented is enormous; and the site provides an exhaustive introduction into the music of the period as well as a glimpse into the popular culture of the late 19th century.