At a Glance
Description
A vast database of Thomas Edison's papers, including correspondence, technical drawings, and clippings about the inventor.
Website
Producer
Rutgers State University of New Jersey; National Park Service; New Jersey Historical Commission; Smithsonian Institution
Thomas A. Edison Papers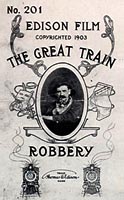 A vast database of Thomas Edison's papers, this website includes 71,000 pages of correspondence, 12,000 pages of technical drawings, and more than 13,000 clippings about the inventor from 103 journals and newspapers. The site boasts over five million pages of documents related to Edison. Processes for searching the site are complicated, but an extensive guide offers search strategies.
Materials include 2,210 facsimiles of Edison patents from 1868 to 1931 for products such as the electric lamp and the phonograph. A collection of 14 photographs, maps, and prints depict Edison, his environs, and his inventions. The site offers a "Document Sampler" of 23 selections of general interest as well as an 8,000-word essay on Edison's companies, 22 pages about Edison and the development of the motion picture industry, and two chronologies. A bibliography directs visitors to more than 70 books and articles and 21 related websites.