At a Glance
Description
Learn more about American Jewish women's contributions to their communities and the wider world with these exhibits and resources.
Website
Producer
Gail Twersky Reimer
Jewish Women's Archive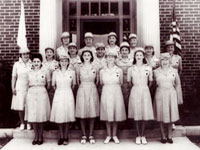 These exhibits and resources are valuable for studying American Jewish women's contributions to their communities and the wider world. Women of Valor focuses on 16 notable historic women—including Congresswoman Bella Abzug; radical Emma Goldman; philanthropist Rebecca Gratz; poet Emma Lazarus; actress Molly Picon; Hadassah founder Henrietta Szold; and nurse, settlement worker, and political leader Lillian Wald. Women Who Dared offers oral history interviews of Jewish women activists in text, audio, and video formats. Interviewees discuss activism in the context of Jewish and gender identity, values, and situations, and elucidate the path to activism, challenges, rewards, and impact. The Encyclopedia, browsable by keyword, time period, and country, includes 2,000 articles on Jewish women's history. This Week in History looks at moments in the lives of Jewish American women corresponding to the date; visitors can subscribe to this feature by RSS feed or email. On the Map pinpoints locations important to Jewish American women's history—and to Jewish American women today. Visitors can add their own locations with photos. Jewesses with Attitude, the JWA blog, features articles on Jewish American women past and present and on other topics relevant to the lives of Jewish American women today. The site has also digitized nine volumes of The American Jewess. Most recently, the Jewish Women's Archive has compiled objects, photographs, and personal accounts of the Hurricane Katrina disaster and the aftermath, complete with 100 oral histories, blog postings, emails, and other firsthand accounts.