At a Glance
Description
Curious about early cars? View more than 800 automobile manufacturer catalog images from 1909.
Producer
New York Public Library Digital Gallery
Manufacturers' Catalogs from the First Decade of American Automobiles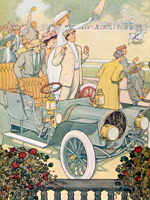 This collection allows the visitor to explore the early history of the American automobile through images from 69 manufacturer's catalogs published in 1909. There are more than 800 total images. In each catalog, clicking on "view image details" brings up a larger version of the selected image with full bibliographic data. Clicking on "enlarge image" brings up a new window with an even larger image where the visitor can read all the details of the catalog picture. Of particular interest are a 27-page Ford catalog with a price list of parts for the company's Model N, R, and S cars; a similar catalog from the E.R. Thomas Motor Company; a Studebaker catalog of "electric pleasure vehicles" featuring a description of the Model 22f Electric Coupe, a car "for evening social engagements, for use in inclement weather in the summer and for winter use, a comfortable and stylish vehicle"; a catalog describing Packard Motor Car Company's "Packard Truck," with images of the truck delivering various types of goods; and a 17-page instruction book on the "Matheson six-cylinder car" with detailed technical diagrams of the car's engine, transmission, and controls. Besides its interest to those researching the history of the automobile, this collection is also a useful resource for those researching the history of advertising, consumer culture, or science and technology in the early 20th century.