At a Glance
Description
Swing to the beats of the early 1900s.
Website
Dismuke's Virtual Talking Machine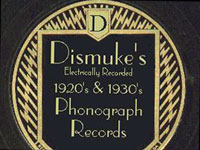 More than 225 music selections from a private collector's 78 rpm recordings produced between 1900 and the 1930s. Music is organized according to type of recording: acoustical (pre-1925) and electrical. Includes music in a variety of styles—ragtime, opera, jazz, classical, marching bands, and swing. Listings for selections provide information on vocalist, band, and soloist, and include annotations of a few sentences each. "Dismuke's Hit of the Week," updated weekly with one to three new audio selections, also offers explanatory material of 100 to 300 words in length. Also includes images of approximately 15 record labels. Of value to those studying American popular culture and music history.