At a Glance
Description
Relive the 20th century through iconic imagery—more than 70 photographs represent major U.S. events.
Producer
National Archives and Records Administration
One Hundred Years of Photography from the National Archives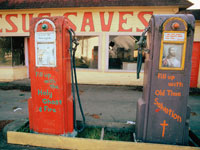 This site, based on a National Archives exhibition of historically significant photographs, commemorates 20th-century events and everyday life. The gallery features 70 photographs grouped into six chronological headings: A New Century, The Great War and the New Era, The Great Depression and the New Deal, A World in Flames (World War II), Postwar America, and Century's End. Images contained in the gallery depict events such as the first Wright brothers flight at Kitty Hawk, immigrants arriving at Ellis Island, Lyndon Johnson meeting Martin Luther King, Jr., a war protestor placing daisies into the rifle of a U.S. soldier, and Nixon's post-resignation departure from the White House, as well as images of everyday life across the nation and throughout the century. Each chronological section opens with a brief (75-100 word) introduction. A 30-50 word caption contextualizes each image and provides information on the photographer, if known.
A portfolio section contains another 48 images taken from the works of Walter Lubken, Lewis Hine, George Ackerman, Dorothea Lange, Ansel Adams, Charles Fenno Jacobs, and Danny Lyon. Each image in the portfolio is accompanied by a 5-10 word title, notes on the photographer, and the date and place the photograph was taken. All photographs are printable. This site is ideal for students and teachers of American culture, society, and historical events in the 20th century.