At a Glance
Description
A companion site to a PBS series, this website contains a wealth of resources relating to Vietnam.
Website
Producer
American Experience, PBS
Vietnam Online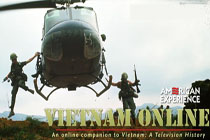 This is the companion to the PBS series, Vietnam: A Television History. David McCullough introduces the site with a 600-word essay on the war and 30-word program notes for each of the 11 episodes. Transcripts for each episode, from the "Roots of a War" to "The End of the Tunnel" are available. "Who's Who" provides photographs and profiles (50-100 words) of 41 major figures. The site provides a timeline from 1945 to 1997 including events leading up to the war, the war itself, and its results, as well as links to 50-word descriptions of events. A 600-word essay illustrated with four photographs describes Vietnam's recovery from the war. Among the 12 personal reflections of the war (300 to 900 words) provided here, visitors may read the memories of a Vietnamese-born American poet, a U.S. marine, a soldier who guarded the Ho Chi Minh trail, and a Red Cross aid worker. There are nine photographs and 3,000 words on equipment from fighter planes to boots and food. One essay (500 words) describes the My Lai massacre and another essay (1,600 words) discusses the continuing issue of prisoners of war and soldiers missing in action. This site is easy to navigate and mixes the personal and global effectively, making it useful for research into the cultural history of war.