At a Glance
Description
How did World War I effect the lives of the everyday North Carolinian?
Producer
University of North Carolina, Chapel Hill
North Carolinians and the Great War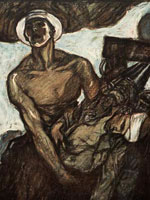 A new addition to the Documenting the American South collection, this site focuses on the impact of World War I on the lives of North Carolinians. Drawn from multiple collections at the UNC-Chapel Hill Libraries, the digitized text and images are divided thematically into three sections, the "Home Front," "Propaganda and Posters," and "Soldiers' Experience." Each section includes an introductory essay (2,000- to 13,000-words) to provide historical context. "The Home Front," is divided into five subject categories: African Americans, educational institutions, mobilizing resources, patriotism and politics, and women. It concentrates on how North Carolinians responded to the war. The 11 documents on the contributions of African Americans and women to the war effort are especially informative.
"Propaganda Posters" includes 100 U.S. World War I posters distributed in North Carolina, covering topics such as military service and war work. "The Soldiers' Experience," focuses on the soldiers, sailors, airmen, and nurses, in and out of combat, and includes memoirs, unpublished diaries and letters, regimental histories, published biographies, and 17 photographs with descriptive captions. Students will also find 17 artifacts typical of soldiers' equipment—boots, field rations, and "dog tags"—fascinating.
Teachers will appreciate this thematic collection for its effective blend of descriptive text, primary and secondary documents, and historical photographs.