At a Glance
Description
Have you ever heard of a Tupperware party? Find out more about the household brand.
Website
Producer
American Experience, PBS
TUPPERWARE!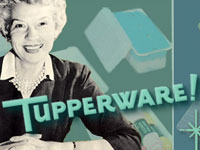 This site explores the invention and rise of Tupperware products in the 1950s, as well as its impact on women's issues, and its connection to the 20th-century consumer culture revolution. The site focuses on Earl Tupper, the inventor of Tupperware, and Brownie Wise, the woman who created the Tupperware party concept and built a Tupperware empire. Included are short (500-word) biographies of each.
In the Gallery, visitors can see 12 of Tupper's invention notebooks to examine some of his inventions that were not as successful as Tupperware, like his no-drip ice cream cone and his necktie shaper.
The Teacher's Guide offers two learning activities in each of four academic areas: civics, economics, geography, and history. A timeline spans from the 1850s to 2003 and includes events such as the invention of plastic.
Primary Sources includes transcripts of interviews with Tupper and Wise, six video clips from the late 1950s and early 1960s (documenting the annual Tupperware Homecoming Jubilees, which were large gatherings of Tupperware dealers), as well as excerpts from the first Tupperware handbook. Also included are six documents, including a 1960s training manual, How to Sell Tupperware, and a collection of Wise's Aphorisms.
Visitors can share their experiences with Tupperware, either as consumers or as Tupperware dealers, in the Share Your Story section.
Finally, the site features an interview with a noted historian of women's issues who discusses the realities of married women's employment in the 1950s, as well as the impact Tupperware had on women's opportunities.