At a Glance
Description
Local history teaches about slavery, emancipation, and freedom in Northern Virginia.
Website
Producer
Laurel Grove School Association
Teaching with Laurel Grove School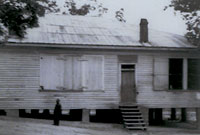 Laurel Grove is a one-room school house in Northern Virginia. In the 1990s, a community team successfully blocked a developer's bulldozer, formed the Laurel Grove School Association, and restored the one room schoolhouse. An interdisciplinary team of community members, curriculum experts, teachers, historians, and museum curators recovered the history of the school from oral histories and local archives, refurbished the classroom, and crafted a history curriculum to teach slavery, the Civil War, Reconstruction, and life under Jim Crow. Today the school is a museum along the African-American heritage trail.
Six lesson plans (scaffolded for K-12) focus on understanding racial issues in Virginia from 1800 through the 1930s, on working with primary sources, and with an emphasis on critical thinking skills. Essays fill in the historical background including Slavery and Free Negroes, 1800-1860, A Look at Virginians During Reconstruction, The Impact of the Jim Crow Era on Education, and A Child's Life in a Segregated Society. Lesson plans are geared to standards and exemplify exploration of local resources to teach American history.
The Laurel Grove website is a work-in-progress, building on the open-source Omeka web-publishing platform especially for scholars, museums, libraries, archives, and history enthusiasts developed through George Mason University's Center for History and New Media.