At a Glance
Description
Follows the history of American taxation through a collection of primary and secondary sources.
Website
The Tax History Project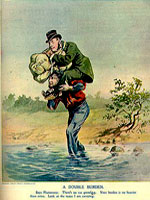 Created by a nonprofit group interested in "open debate on federal, state, and international tax policy," this site furnishes an eclectic range of primary and secondary resources on the history of American taxation. "Tax History Museum" currently offers a 23,000-word narrative in eight chronological segments summarizing tax policy and politics from 1660 to 1900, supplemented with 70 images and links to related documents. The 20th-century portion is in development. "The Price of Civilization" makes available 14 posters and more than 6,500 pages of federal documents—primarily Treasury Department reports—on the development of the current tax system during the Great Depression and World War II. "Presidential Tax Returns" includes returns of recent presidents and Vice President Cheney. "Taxing Federalism" features nine Federalist Papers, and "Image Gallery" offers 15 political cartoons from the turn of the century to 1947, many by Washington Star cartoonist Clifford Berryman. The site also offers a bibliography and four sound clips of federal officials discussing tax policy.