At a Glance
Description
Explore the history of baseball and the players who made the sport great.
Producer
National Baseball Hall of Fame and Museum Inc.
National Baseball Hall of Fame and Museum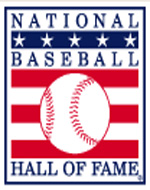 Official site of the Baseball Hall of Fame, located in Cooperstown, New York. Gives 100-word biographies on all past 253 inductees and 1,000-word essays on the four members elected in 2001. Includes four educational programs, each containing 4-5 primary source documents--cartoons, articles, letters, photographs, and advertisements--on World War II and baseball, Jackie Robinson, the Negro Leagues, and women in baseball. Provides extensive bibliographies of more than 100 titles each on Robinson, Roberto Clemente, women in baseball, sex discrimination in athletics, and the 1972 antitrust suit "Flood v. Kuhn," dealing with baseball's controversial "reserve clause." Also includes a 4,000-word essay on a leading midwest minor league team from 1901-1961; research lists dealing with baseball trivia topics; an exhibit of paraphernalia given by a collector; a "Treasures of the Hall of Fame Quiz" for visitors age 12 and under; links to 34 major and minor league ball club sites; and information about using the organization's library and research collections. A useful source of historical information on baseball players, clubs, leagues, law, and lore.