At a Glance
Description
Whether you're bolstering your teaching of local history or the War of 1812, the MHS has artifacts to help.
Producer
Maryland Historical Society
Maryland Historical Society Collections Online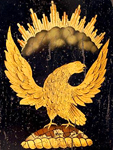 The Maryland Historical Society owns millions of objects which could be key to bringing history to life for your class. A growing number of these items can be found in their digital collections.
The collections can be searched by title, creator, individual collection, or subject. At the time of writing, there are nine collections—the American Civil War; War of 1812; Paintings; African American History; Women's History; Mining the Museum (items on exhibit); Benjamin Henry Latrobe, an architect known for design the U.S. Capitol and the Baltimore Basilica; and works on paper. Artifacts include photographic images, engravings, broadsides, handwritten documents, a flag, a shadowbox, a knife, sketches, clothing, paintings, swords, a shield, a canteen, and more.
The original handwritten version of "The Star-Spangled Banner" may be of particular interest.