At a Glance
Description
How much do you know about the first U.S. Secretary of the Treasury?
Producer
New York Historical Society
Alexander Hamilton: The Man Who Made Modern America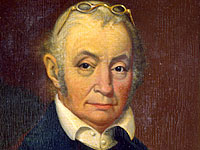 This exhibition details the life of Alexander Hamilton. Born in the British West Indies in 1745, Hamilton served as an aide to George Washington during the Revolutionary War. He was the first Secretary of the Treasury, also under George Washington, before being killed in a duel with Aaron Burr. This site offers a short, 20-question quiz on Hamilton's life, a timeline of the important events and accomplishments of his life, and a virtual tour, narrated by Hamilton scholar Richard Brookhiser.
A document viewer allows visitors to view five documents written in Hamilton's own hand, including a love letter to his wife. A log allows visitors to see what Hamilton was doing on selected days between 1783 and his death in 1804. A set of interactive maps allows viewers to select sites in New York City and New Jersey, and learn of their significance in Hamilton's life and American history. The site offers an entertaining and substantive introduction to an influential founding father.