At a Glance
Description
View photographs, cartoons, and campaign items from the women's suffrage movement.
Producer
American Memory, Library of Congress
By Popular Demand: "Votes for Women" Suffrage Pictures, 1850-1920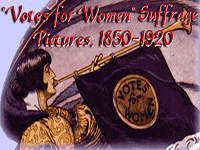 A collection of 38 images relating to the women's suffrage campaign, including individual portraits, photographs of parades, newspaper cartoons, and anti-suffrage items. Searchable by keyword and arranged into subject and name indexes, the site also includes a lengthy timeline, "One Hundred Years Toward Suffrage," a bibliography, and a list of related holdings in the Library of Congress. This site is the "pictorial partner" to the documents in "'Votes for Women': Selections from the National American Woman Suffrage Collection, 1848-1920."