At a Glance
Description
Access close to 140,000 images from the Smithsonian Institution.
Website
Producer
Smithsonian Institution
SIRIS Image Gallery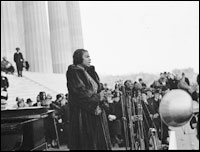 Highlights from the Smithsonian Institution are presented here, with access to a database of close to 140,000 images from Smithsonian archives and museums. The Image Gallery presents a sample of images, browsable by format, such as photographs, slides, drawings, postcards, and stereographs. Images are also organized by repository, including the Freer Gallery, the Archives Center, and the National Anthropological Archive.
"Frequently Used Images" provides a link to the most popular images, sorted by month and year. Within the Archives Center, for example, there are four collections with more than 30,000 images, including the Underwood and Underwood Glass Stereograph Collection, 1895–1921 on topics such as actors, African Americans, disasters, ethnic humor, immigration, Indians, labor, presidents, women, and World War I. The Addison N. Scurlock Collection presents more than 2,000 black-and-white images, primarily of Washington, DC, and from African American life. There are 1,500 advertisements from the Ivory Soap Advertising Collection and close to 200 postcards. All images may be searched via the "Search Images" tab.