At a Glance
Description
What was life like for Amanda Akin, Civil War nurse in Washington, DC?
Website
Producer
Smithsonian Institution
Diary of a Civil War Nurse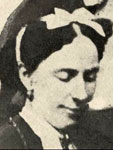 As men flocked to join the Union and Confederate armies, so, too, many women left their homes to serve as nurses in the war effort. This website presents the story of one such woman, Amanda Akin, who at 35 years of age left New York to work at Armory Square Hospital in Washington, DC, for one year and three months. During that time, she both kept a journal and wrote letters to her sisters recording her experiences.
The website offers images of Akin's diary, photograph portraits, and choice quotes from her recollections, as well as brief explanations and sources related to Civil War nursing in general—for example, books of orders and photographs. The title is somewhat misleading in that the diary itself is not available on the website. Instead, the interactive document link takes you to a map of Washington, DC, with locations relevant to Akin's story and major events of the time. Each location provides photographs (sometimes with a comparison image of the location today), advertisements, and/or artworks; quotes from Akins and other sources; and a small amount of contextual information.
The site links to a copy of Amanda Akin Stearns's (Akin's married name) The Lady Nurse of Ward E which Akin penned in 1909 as a memoir of her time working in the hospital.