At a Glance
Description
Learn about race in American sports history through the life of Jackie Robinson.
Producer
American Memory, Library of Congress
Jackie Robinson and Other Baseball Highlights, 1860s-1960s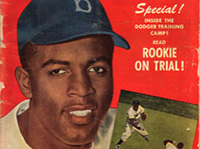 This site features two "special presentations" and presents hundreds of primary materials relating to baseball in America. Materials include letters, manuscripts, trading cards, lobby cards, newspaper images, photographs, advertisements, sheet music, and transcripts of interviews, speeches, and television broadcasts. The first presentation, "Baseball, the Color Line, and Jackie Robinson, 1860s-1960s," furnishes approximately 30 documents and photographs in a 5-section timeline that examines the history of Jackie Robinson's entry into the major league baseball. It includes material on the Negro Leagues, the nature of baseball's color line, Robinson's career as a Brooklyn Dodger, and his role as a civil rights activist.
A second presentation, "Early Baseball Pictures," presents 34 images dealing with baseball from the 1860s to the 1920s divided into five sections. The site also includes an annotated bibliography comprised of 82 titles and a list of six links to related resources. While limited in size and focus with regard to general baseball history, this site is valuable as an introductory look at Jackie Robinson's life and the topic of race in American sports history.