At a Glance
Description
Listen to an overview of popular brass band music from the Civil War era.
Producer
American Memory, Library of Congress
Band Music from the Civil War Era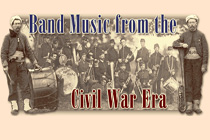 Examples of brass band music from the 1850s through the 19th century. "Bands of this kind served in the armies of both the North and the South during the Civil War, in the field as well as for the entertainment of the officers." Including both printed and manuscript music, the collection features more than 700 musical compositions, as well as eight full-score modern editions, 19 recorded examples of brass band music in performance, and a gallery of 37 photographs taken of bands during the Civil War.
Also provides a 10,000-word "Special Presentation" entitled, "The American Brass Band Movement: A Historical Overview," that includes 15 drawings and photographs. Useful primarily to music specialists, the site may also be of interest to those studying the popular culture of the Civil War era.