At a Glance
Description
Experience Caucasian, middle-class Northeastern life through the collections of four families.
Producer
Sophia Smith Collection, Smith College
Across the Generations: Exploring U.S. History through Family Papers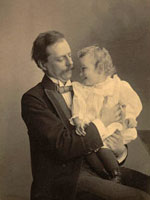 This collection from one of the nation's leading repositories for sources on women's history features photographs, letters, account books, diaries, legal documents, artwork, and memorabilia generated by four prominent northeastern families from the late 18th through the early 20th centuries. The four families—the Bodmans, Dunhams, Garrisons, and Hales—are white, middle-class families, and their experiences represent only a portion of American society in the 19th and early 20th centuries.
This site features 63 documents and images gathered from the families' papers ,and there are two ways to navigate them: by family or by one of four themes (Family Life, Social Awareness and Reform, Arts and Leisure, and Work). Each family or theme has its own page, with short (350–500 word) interpretive text combined with excerpts from the documents. Each excerpt is accompanied by links to the entire document—both a scanned image and a transcription.
The theme "family life" contains documents that reflect courtship patterns over the 19th century, childrearing practices, and 19th-century gender roles. "Social awareness and reform" features items related to the abolition of slavery and changing perceptions of race, and women's suffrage. Some of the materials within "arts and leisure" reflect increased opportunities for professional women artists in the late 19th and early 20th centuries. The "work" theme includes materials that demonstrate the barriers women faced within the workplace. This site, when supplemented with additional resources, can help show students how to use family papers to study U.S. history.