At a Glance
Description
Live in California? Trying to find local New Deal projects?
Website
Producer
University of California, Berkeley
Living New Deal Project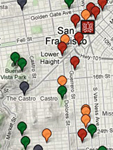 The Living New Deal project essentially creates a Google map of projects completed within the United States as part of the economic and social revival measure, the New Deal. These maps can be sorted by the type of project you are interested in locating, such as education, parks, art, or flood erosion measures. You can also find the portion of the nation of interest to you, and use the maps to locate nearby New Deal examples. Time for a field trip, perhaps?
In addition to providing the name, address, and website link for each location, the Living New Deal project also includes numerous other resources—such as detailed project descriptions, names of contributors and/or artists, project dates, photographs, and many other helpful and informative tid bits of information. The site also offers a plethora of other resources, so be sure to search around for teaching resources centered on the New Deal, news updates about existing New Deal projects, and coverage of the current economic crisis.
Although the website asks for contributions on the main page, users are under no financial obligations whatsoever. Contributions of information (to be verified by UC Berkeley) are also welcome, and likely more professionally appropriate.