At a Glance
Description
Begin genealogical projects on the right foot with these databases and tools.
Website
FamilySearch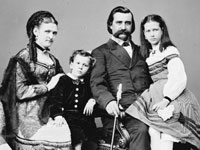 Allows genealogical searching of a number of indexes—with listings of names numbering in the hundreds of millions—created by the Mormon church to assist their members with family history research. Offers guidance and forms useful for conducting genealogical research in many places in the world and census worksheets for the U.S. covering the years 1790–1920, Canada for 1851–1901, and Ireland for 1901–1911.
Also includes links to hundreds of related sites accessible according to category. A good introduction to family history research.