At a Glance
Description
Build students' historical thinking skills and civic understand using Library of Congress primary sources.
Website
Producer
Roy Rosenzweig Center for History and New Media
Eagle Eye Citizen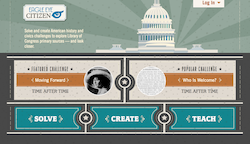 Eagle Eye Citizen engages middle and high school students in solving and creating interactive challenges on Congress, American history, civics, and government with Library of Congress primary sources while developing civic understanding and historical thinking skills.
There are three challenge types to solve and create: Time After Time, Sort It Out, and Big Picture. Each challenge type focuses on specific civics and historical thinking skills, such as sequencing, close reading, categorization, and primary source analysis. Teachers can track conceptual understanding and student skills in observation and analysis through the reflection questions that follow each challenge. Students earn votes and badges as they solve and create challenges, moving up the ranks to become "Master Legislators."
The site features more than 350 primary sources from the Library of Congress, including a photograph of the 1963 March on Washington and an 1876 campaign song for Rutherford B. Hayes. These sources are organized into five main civics themes: citizenship, civil rights, the Constitution, elections, and the legislative branch. Within each theme are related civics and historical topics, such as women's suffrage, political parties, and slavery.
The Teach section of the site provides lesson planning ideas, tips on differentiation and assessment, as well as suggestions for professional development. Also included are three videos that introduce teachers to the site, elaborate on the challenge skills, and help teachers set up Eagle Eye Citizen for their classrooms.