At a Glance
Description
There's more to the West than cowboys.
Website
Producer
Matthew Nickerson, Southern Utah University
Voices of the Colorado Plateau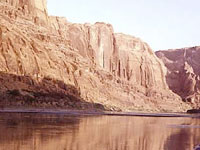 Offers more than 40 multimedia presentations featuring oral history excerpts and photographs that document aspects of life in the Colorado Plateau--encompassing parts of Utah, Arizona, New Mexico, and Colorado--during the past half century. Also presents audio files of 10 complete oral histories and transcripts of the interviews ranging from 2,200 to 19,000 words in length. A joint project of eight libraries and museums in the four Colorado Plateau states and Nevada, the site is organized into three sections--People, Places, and Topics--with subheadings that allow visitors to access the audio excerpts, many of which are accompanied by slide shows of photographs. The people interviewed include a Navajo language interpreter, the son of homesteaders, a schoolteacher, a pioneer in commercial river running, and an administrative officer for a town built for dam workers. Topics range from sociocultural concerns, such as growing up, education, families, food, and leisure, to work- and environment-related subjects, including ranching, timber, and tourism. Valuable for those studying the American West and the use of oral history for exhibit presentations.