At a Glance
Description
Would you have survived along the Underground Railroad?
Producer
National Geographic
National Geographic Online: The Underground Railroad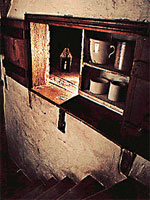 This multimedia educational site from National Geographic offers a diverse set of materials that describe the Underground Railroad, the well-known network of men and women who helped transport African Americans to freedom before the abolition of slavery. Students can start by taking an interactive journey to the North and to freedom. Using visual materials (such as historical photographs of slaves and abolitionists) and audio selections (such as popular spirituals of the day), students make decisions about what to do in order to reach the North. The site is also comprised of a map of the Underground Railroad routes, including those specific to Harriet Tubman, and a section entitled "Faces of Freedom" that allows students to study 12 brief (25 words or less) biographies of individuals who helped enslaved African Americans reach the North.
A timeline provides some context to the history of slavery in the New World, beginning with the importation of slaves by Spaniards to Santo Domingo in 1501 and concluding in 1865 when slavery was abolished by the passage of the 13th Amendment. The site is rounded out by a number of educational resources for K-12 teachers.