At a Glance
Description
Find top notch history web resources, as well as advice on using technology for teaching.
Website
Best of History Websites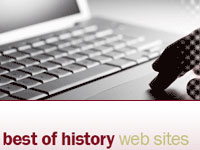 Designed for history educators and students, this useful portal provides access to more than 700 of the best history resources online. Sites are organized into 10 categories—Prehistory, Ancient/Biblical, Medieval, U.S History, Early Modern European, 20th Century, World War II, Art History, General Resources, and Maps. Many of the five-star Pre-history, Ancient, and Medieval sites are hosted by Smithsonian Institution, PBS, and the Internet History Sourcebooks; and the Library of Congress is the creator of a wide-range of top-rated sites for U.S. history. The 20th-century and World War II sections are voluminous, the latter presenting 42 sites. There are three special categories: Lesson Plans/Activities, Multimedia, and Research. "Multimedia" includes 18 map sites, including the Rumsey collection with more than 8,000 maps. Instructors will find the section on "Teaching with Technology" especially informative. It offers articles and advice about integrating computers into lessons and links to dozens of useful resources on teaching with technology. Visitors can sign up to receive monthly email updates.