At a Glance
Description
Learn about the role of three American women during the Civil War.
Website
Producer
Digital Scriptorium, Duke University
Civil War Women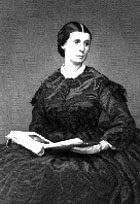 These Civil War-era documents relate to three American women of diverse backgrounds and political persuasions. The site includes correspondence and news clippings relating to Rose O'Neal Greenhow, a Confederate spy and Washington socialite, whose espionage work was so appreciated by Jefferson Davis that he "credited her with winning the battle of Manassas"; correspondence, a testimonial, and a pension certificate relating to Sarah E. Thompson, who organized Union sympathizers near her home in the predominately Confederate-leaning town of Greenville, Tennessee, aided Union officers, served as an army nurse, and lectured about her war experiences; and 16-year-old Alice Williamson, a Gallatin, Tennessee, schoolgirl who kept a 36-page diary from February to September 1864 about the Union occupation of her town and atrocities attributed to the invading army.
The materials are accompanied by 500-700 word background essays, images of original documents, and photographs of Greenhow and Thompson. Also contains nine links to additional resources.