At a Glance
Description
Read the annotated works of author Willa Cather (1873–1947), including O Pioneer! and My Antonia.
Website
Producer
University of Nebraska, Lincoln, Center for Digital Research in the Humanities
Willa Cather Archive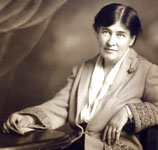 Willa Cather (1873–1947) wrote 12 novels and numerous works of short fiction. She won the Pulitzer Prize in 1923 and is known for her intensive examination of life in the midwestern U.S. This extensive archive is dedicated to her life and work. At its core is a collection of all of her novels, short fiction, journalistic writing, interviews, speeches, and public letters published before 1922. All materials are fully searchable. Notably, both O Pioneers! and My Antonia are accompanied by extensive scholarly notes, historical context, and introductory material. Accompanying her published materials is a collection of 2,054 of Cather's letters (again annotated and fully searchable), more than 600 photographs of Cather and important people and places in her life, audio of Cather's Pulitzer Prize acceptance speech, and a short video clip of Cather. Several scholarly articles and a text analysis tool are also available.