At a Glance
Description
Union strikes. Murder. Itinerant songwriting. The life of martyr Joe Hill could hardly have been more dramatic or mysterious.
Website
Producer
KUED, University of Utah
Joe Hill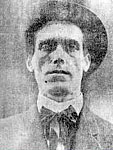 Joe Hill was created as a companion to PBS channel KUED's documentary on the c. 1900 labor movement figure of the same name. Born in Sweden, Joe Hill's life is largely an enigma. Over time, he became involved in the Industrial Workers of the World, and was known as a writer of labor movement songs. Eventually, Hill was tried for murder, resulting in an outcry from sources as varied as the Swedish ambassador to the American Federation of Labor.
This website provides a brief biography of Joe Hill (also known as Joel Hagglund), introductions to major protestors against his sentence, an overview of the impact of his songwriting, audio recordings and lyrics of several of Hill's songs, lengthy sections of the formal appeal against Hill's sentence, and an interview with a lawyer and professor concerning the case and its legal and social context. Low-resolution images of Joe Hill, his cartoons, labor propaganda, and correspondence related to his trial and sentence are located throughout the site. In some cases, transcriptions are available of historical documents.
Joe Hill also contains information on various labor professions in the early 20th century. You can read about mining, immigration, the Scofield Mine Disaster, and more. Included are five interviews with professors and authors who contributed to the documentary film.
A final section on labor today offers readers an opportunity to submit their own labor stories, as well as a list of publications related to the life and death of Joe Hill.
Site navigation is not as intuitive as it could be. The best way to peruse the "Story" section, for example, may be to use the timeline, rather than to move through the pages in the order the "next" arrows would have you do. Using the timeline, however, will link you to sections in both the "Story" and "Legal Battle" section of the site. Expect to use your browser's back button frequently.