At a Glance
Description
Explore Jewish heritage outside of the Mid-Atlantic or the Holocaust.
Producer
University of North Carolina Library
A Portion of the People: Three Hundred Years of Southern Jewish Life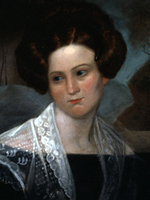 This exhibit tells "the story of Southern Jewish settlers and their descendants from the late 1600s through the 21st century." It currently consists of two presentations, each with more than 50 pages presenting an image from the exhibit's collection with accompanying explanatory text. Images include portraits, maps, historical documents, photographs of Jewish ritual books and religious and cultural objects, paintings and photographs of synagogues, and photographs of Jewish businesses. "First Families" explores the period from the 1600s to the 1820s through more than 50 images and "This Happy Land" explores the antebellum and Civil War years through more than 90 images. (The presentation "Pledging Allegiance," recounting the story of Jewish migration to the South in the first half of the 20th century, is under construction.) Visitors can listen to six interviews featuring voices from the past (transcripts are available). Additionally, a photographic essay with more than 40 photographs, "Palmetto Jews" by Bill Aron, examines Jewish life in South Carolina over the past 50 years. There is no site search capability.