At a Glance
Description
Provides an overview of World War I through essays, diaries, posters, audio files, and other primary and secondary sources.
First World War: The War to End All Wars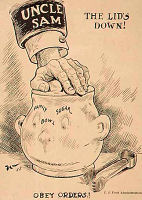 The stated purpose of this website is to provide an overview of World War I. This it does effectively through hundreds of essays, 3,100 encyclopedic entries, 618 biographies, 318 resources on the war's major diplomatic and military events, and a timeline. Primary documents include over 100 diaries and firsthand accounts of soldiers and politicians, 3,900 photographs, 651 propaganda posters, and 155 audio files of songs and speeches. Documents include treaties, reports, correspondence, memoirs, speeches, dispatches, and accounts of battles and sieges.
The site also provides 95 essays on literary figures who wrote about the war. While admittedly a work-in-progress, the site offers much material on the leaders who engaged their countries in war and on the experiences of ordinary soldiers who fought the battles.