At a Glance
Description
What have women artists considered worthy of depiction in the U.S. West?
Producer
Susan Ressler and Jerrold Maddox
Women Artists of the American West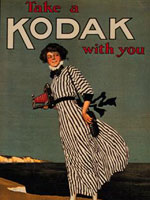 This online archive features images of photographs taken by women that represent the holdings of the Women in Photography Archives located in Arcata, CA. Most of the photographs in the collection are the work of women photographers who were active between 1850 and 1997 and had some connection with the American West, particularly California.
The archive contains 17 separate collections, arranged according to four main themes: Community, Identity, Spirituality, and Locality. Each of these categories features relevant essays composed by art historians, curators, and artists. As a whole, the site offers the works and biographies of approximately 180 artists and photographers.
For educators, the site also offers a comprehensive eight-week syllabus that covers the website's four main themes.
Although navigating the website can take some getting used to, it is worth the effort. The site is a valuable resource for often lesser-know perspectives on the American West.