At a Glance
Description
Follow the development of a mill town from its birth to its current status.
Website
Producer
Old West Durham Neighborhood Association
A Southern Mill Village: History of Old West Durham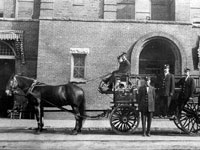 A collection of 18 essays and 90 photographs on the history of Old West Durham—one of the oldest neighborhoods within Durham, NC—which began as a traveler's rest stop prior to the city's establishment in the 1850s as a railroad town. Traces the neighborhood's numerous incarnations as a hangout for "the shiftless of society" in the mid-19th century to a factory town following the establishment of Erwin Mills in 1892 to the site for Duke University's west campus in the 1920s. A period of rapid decline occurred in the 1970s and 1980s, followed by its present-day renaissance as a neighborhood community.
The site includes seven Works Progress Administration oral histories from 1938, ranging from 1,000 to 3,000 words each, of people living in the mill village; seven newspaper articles from 1913 about the growing "suburb"; a 3,400-word essay on the history of the cotton mill and mill village; a 4,000-word reminiscence of a child growing up in the neighborhood during the 1950s and 1960s; and a 550-word essay on "Preservation North Carolina," an organization interested in preserving industrial heritage sites. The Old West Durham Neighborhood Association was formed in 1995 with the credo "Diversity, Harmony, Community." A well-designed local history presentation useful to those studying urban history and labor history.