At a Glance
Description
We all know the role of the wagon in westward expansion, but what of ships?
Producer
American Memory, Library of Congress and Mystic Seaport Museum and Library
A Maritime Perspective on American Expansion, 1820-1890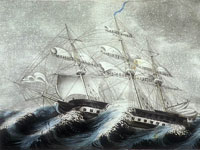 Focusing on 19th-century American maritime history and westward expansion, this collection of more than 160 documents from the Mystic Seaport Museum and Library provides diverse materials to explore themes such as the California Gold Rush, whaling, maritime business, migration and immigration, women's role in the West, and interactions between European migrants and native inhabitants. This Ameritech Award-winning site includes more than 25 photographs, more than 20 letters, logbooks from ships, published travel narratives, paintings, maps, and nautical charts. Provides four essays published previously in a Mystic Seaport publication, including an 1866 newspaper essay assessing Honolulu as a whaling port by youthful journalist Mark Twain.
The site is searchable by subject, name, title, and keyword, and includes an annotated bibliography of hundreds of documents in the Seaport's collections, and of 65 secondary sources. Valuable for those studying the American West, maritime history, business history, and the history of coastal and island localities.