At a Glance
Description
Have a question about New York City or state history? More than 750 articles available.
Website
The History Box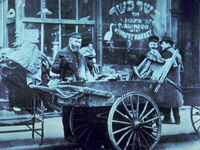 A gateway and an archive of numerous articles on New York history, this site "focuses a particularly long lens on the early history of political and economic events, panics, riots and other related matters affecting or contributing to New York City's development and growth." Its main feature is the New York state and New York City directories. (The U.S. directory is currently unavailable.) The New York state directory offers more than 700 links and more than 60 articles organized under 21 topics that include the arts, cities and counties, ethnic groups, military, societies and associations, transportation, women and their professions, and worship.
The New York City directory offers more than 5,200 links and more than 700 articles organized under 58 topics that include architecture, the arts, business matters, city government, clubs and societies, crime and punishment, education, ethnic groups, 5th Avenue, Harlem, immigration, New York City panics, real estate, temperance and prohibition, and Wall Street. The visitor can search the entire site or each directory by keyword. This site is a good starting point for researching the history of New York. It should also be useful for literary scholars, writers, and historical societies.