At a Glance
Description
Meet the Oneida, and discover their role in the Revolutionary War and War of 1812.
Producer
Oneida Indian Nation
Oneida Indian Nation: Culture and History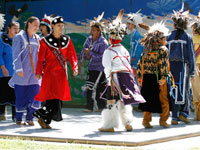 The Oneida Indian Nation, called the "first ally and steadfast friend" of the fledgling American republic, presents documents and historical studies focusing on the Revolutionary War period and on recent efforts to pursue land claims dating from the earlier period. Includes texts of six treaties or agreements involving the Oneida and the U.S. between 1777 and 1794; statements by the U.S. Congress, Presidents, and New York State regarding the Oneida; and President Bill Clinton's 1994 memo on "Government-to-Government Relations with Native American Tribal Governments." In addition, the site offers six essays by Nation historians and others, ranging from 1,300 to 7,400 words in length, on topics such as the roles the Oneida played in the birth of the U.S. and the War of 1812, and the land claim crusade.
Includes excerpts from an oral history project in which 13 tribal elders discuss food, herbal cures, crafts, annuity cloth, language, and land claims; a timeline; 35 press releases; a cookbook; and essays on lacrosse, legends, and the tribal creation story. The site promises in the future to include significant treaties from other Indian nations. Valuable for those studying American Indian history and culture, the Revolutionary War period, and recent legal efforts by Indian nations to pursue land claims.