At a Glance
Description
The Supreme Court is the final law of the land. Uncover its intricacies with this resource from PBS.
Website
The Supreme Court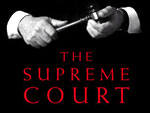 The Supreme Court is a companion website to a 2008 Parents' Choice gold-award-winning PBS series on the same topic. Under About the Series, episodes can be previewed online, or you can read full transcripts. Another option is to download the discussion guide, intended for use in 9th- through 12th-grade classrooms.
For Educators includes lesson plans, interactives and games, a link to the aforementioned discussion guide, and a list of external resources. Interactives include a timeline, which requires you to put 10 landmark Supreme Court cases in order; a game of memory which requires matching historical figures to facts (ex: Oliver Wendell Holmes to being known as "the Great Dissenter"); and a quiz where you match daily activities such as listening to music or saying the Pledge to relevant case names. The four available lesson plans cover federal v. state power, the 14th Amendment, civil liberties, and the legal importance of precedent.
Note the links to games and a timeline at the top of the home page will take you to a different timeline and set of games. This timeline shows you major Supreme Court and historical events which took place in the year of your choosing. The games include six additional interactives—an explanation of design and architectural decisions as they relate to the Supreme Court; how various types of texts have served as inspiration in Supreme Court decisions; an opportunity to decide which way you think majority rule fell in four cases; matching justices, cases, or issues to quotes; examples of reversal of precedent; and an opportunity to register and predict the outcome of current cases.
Other features available on the website include pages on Supreme Court history (in the top menu of the home page) and additional interviews with Sandra Day O'Connor and John Roberts (in a menu near the bottom of the home page).