At a Glance
Description
Explore campus protest ephemera and the youth movements of the 1960s and 70s.
Producer
University of Washington Libraries Digital Collections
Vietnam War Era Ephemera Collection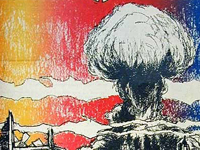 This small but interesting archive of 232 items "contains leaflets and newspapers that were distributed on the University of Washington campus during the decades of the 1960s and 1970s. They reflect the social environment and political activities of the youth movement in Seattle during that period." The collection can be browsed in 24 thematic categories that include Vietnam protests, human rights, gay rights, feminism and women's issues, racism, socialism and labor, farm workers, peace candidates, environment, religion, fanaticism, "Age of Aquarius," civil liberties, freedom of speech, anarchy, communism, pro-Vietnam War, and Palestinian protests. Basic keyword and advanced searches are available. This website is a useful resource for researching the history of campus protest in the 1960s and 1970s.