At a Glance
Description
Analyze popular fiction of the 1920s with these stories from the pulp magazine Black Mask. What do they say about gender, stereotypes, youth, and entertainment?
Producer
Keith Alan Deutsch
Black Mask Magazine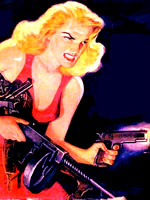 In 1920, journalist H. L. Mencken and drama critic George Nathan launched Black Mask, a pulp magazine designed to finance the literary magazine Smart Set, and set out to publish "the best stories available of adventure, the best mystery and detective stories, the best romances, the best love stories, and the best stories of the occult." The magazine went on to become famous for popularizing hard-boiled detective fiction, written most notably by Dashiell Hammett, Erle Stanley Gardner, and Raymond Chandler.
This website celebrates the "pulp revival" with the full-text of 20 stories published in the 1920s and 1930s in Black Mask, as well as other similar magazines, including Adventure, Detective Fiction Weekly, and Dime Mystery Magazine, including Walt Coburn's "The Notched Gun" and "Scotty Scouts Around" by Raoul Whitfield. Accompanying these stories is a gallery of magazine covers and photographs of famous authors, as well as guidelines to writing Black Mask-style fiction, and essays on the pulp fiction era.