At a Glance
Description
Showcases archaeological excavations at Mobile and elsewhere in Alabama through images and exhibits.
Producer
Center for Archaeological Studies, University of South Alabama
Center for Archaeological Studies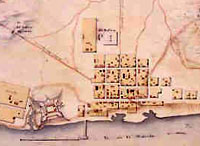 Designed to showcase the work of archaeologists and their excavations at Mobile and elsewhere in Alabama, this website offers images and exhibits from several digs. Visitors can "virtually visit" archaeological sites in the town of Old Mobile, capital of the French colony of Louisiane [sic] from 1702 to 1711; the Mississippian Indian city of Bottle Creek (1100–1400); and the Indian fishing site of Dauphin Island Shell Mounds (1100–1550).
Additional sites include the French village of Port Dauphin (1702–1725); the Dog River Plantation site, home to a French-Canadian immigrant family, numerous Indians, and slaves (1720s–1848); and sites in downtown Mobile, including a Spanish colonial house (ca. 1800), an early 19th-century riverfront tavern, and antebellum cotton warehouses.
Artifacts features more than 250 images of pottery shards with accompanying descriptions. Great Links presents 30 additional websites that focus on preservation, archaeology, and Alabama history. The site also includes images and information on seven additional French colonial sites in Nova Scotia, New York, Michigan, Illinois, Mississippi, and Louisiana.