At a Glance
Description
Allow the National Woman's Party to show you their collection on women's progress to equality.
Producer
National Woman's Party
Sewall-Belmont House Museum Collections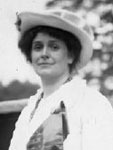 The Sewall-Belmont House is a National Woman's Party-run museum on women's equality movements in the U.S. A portion of their collections are now searchable online.
Using the site's search engine, you can easily find printing blocks for the newspaper the Suffragist, as well as cartoons by Nina Allender. Other items may be a bit more difficult to find, but the collection includes keys, voting cards, a jail door pin (worn by suffragists jailed for their activism), and more.
If you aren't sure what to look for, try either Click and Search or a selection of Random Images. Each time you access the images, a different set will be pulled from the collection. As for "click and search," you can choose a letter for any of an object's data fields (object type, creator, subject, etc.), and browse through corresponding drop-down lists. Select anything that catches your eye, and the site will bring you to that particular artifact's page.
Among these three ways of accessing the site content, you should be able to uncover a treasure trove of women's rights sources to share with your classroom.